GET YOUR PERIOD
And your life back!
COULD YOU HAVE HYPOTHALAMIC AMENORRHEA? Tick all that apply
Please select atleast one option
Disclaimer: this quiz is intended for information and entertainment purposes, and does NOT deliver an official medical diagnosis. Kindly refer to a doctor or OB/GYN to get an official HA diagnosis.
You may or may not suffer from HA. Get to know more by getting the book or listening to my podcast!
More than 3 yes: HA seems like a serious possibility. At this stage, you could
Not having a regular period may be common, but it is not normal nor healthy. It can lead to short and long term health problems, including infertility, osteopenia and osteoporosis, cardiac issues and early-onset dementia, as well as a host of uncomfortable symptoms.
Regular periods are seen as a vital sign, because the natural hormones involved in ovulation contribute to a woman's heart, bone, neurological and reproductive health.
If you don't have a period outside of taking hormonal contraceptives and are concerned about missing periods, you have come to the right place.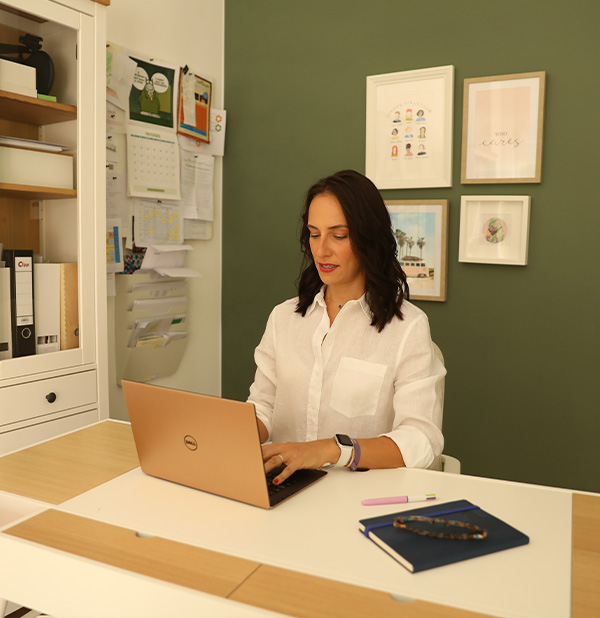 My work as a body image coach allows me to accompany women in their period recovery, and I have the honour and the privilege to work in partnership with the leading expert on hypothalamic amenorrhea, Dr Nicola Sykes (Rinaldi).
Dr Sykes and I have helped hundreds of women regain their period and their health, through private coaching, the book, the online support group and the podcast. We complete each other well as a team: Dr Nicola Sykes (Rinaldi) focuses on explaining the scientific ins and outs of HA and fertility, while I help with the emotional side of recovery (and that pesky fear of weight gain!).
Did you know that the #allin method has a 98% success rate for Hypothalamic Amenorrhea patients?
WORKING WITH ME AND DR NICOLA SYKES (RINALDI) ALLOWS YOU TO
– Recover your period within a few months
– Let go of symptoms related to starvation
– Foster a better relationship with all types of food!
– Let go of weight as a marker of health
– Learn to connect to body and mind with self-compassion
– Decrease stress, anxiety and critical self-talk
– Improve fertility & bone density
– Develop cognitive self-care tools
– Increase self-confidence and self-esteem
– Regain mental space and freedom
– Reconnect to one's true identity
subscribe to receive updates on upcoming news and workshops
Florence has been a significant and important support person on my HA journey. As a marathon runner starting this process I thought I could never quit running which I held as such a big part of my identity for almost three decades! Florence really shone a light of my destructive behaviours in a compassionate way and she has also lived it personally. Finally I made the decision to prioritise my health a quit running completely whilst I healed my body. There were some really tough moments and Florence always had an inner knowing of when I needed a check in or extra support. I would highly recommend Florence if you need support not only on recovering from HA but for loving and accepting yourself.
Lauren, 38, Gold Coast, Australia
"Florence was the first person I really opened up to about what I was going through. Our sessions were my consistent safe space, a place to feel all that I was feeling and to feel supported. Her guidance and reassurance of every step of the recovery process was so needed in helping me stay the course. She was there for me at my lowest, and celebrated with me at my highest. Our time together helped me to feel comfortable talking about it with my family and others, as well, which I believe was essential for me to really claim my story and confidence. Her calm and soothing presence and personal insights made me feel heard, and I cannot recommend her enough ? "
Meredith, 26, Boston, USA
"Florence was the kind and supportive, yet firm push I needed to get past some of the mental barriers that were holding me back in my healing journey. If you struggle with your relationship to food, movement, or your body and want someone who can relate to your struggles, I highly recommend working with Florence. For me personally, I knew what I needed to do to get my period back but I was making excuses without someone holding me accountable. Florence's advice was what I needed to hear to keep progressing in my recovery."
Ellis, 21, California, USA
Working with Florence was helpful because she brought to light many of the toxic beliefs that were there all along but that I had denied or ignored because it felt scary not to follow the overall [fatphobic] trend. Together, we were able to look at these beliefs and deconstruct them, but also to appreciate there is no proven link between, health, moral value and appearance.
A year after my first recovery period, of course not everything is perfect. but I feel a lot less anxious about food and exercise, I am a lot kinder to myself, I finally feel like a woman, not a girl, my libido is back, I feel a lot more at peace with myself and I know myself better. I am also more present with my children, I am a "fuller" person.
Being able to speak about your body image was also fundamental in my recovery. I really needed the guidance of Nicola and Florence on my path.
One aha moment during coaching was realising that my recovery was going to be physical and mental and I had to focus on both to recover. I was able to speak to Nicola about physical recovery, and how I can support my body in the best way, and I was talking to Florence about how I perceive my body, food, exercise.
Nicola and Florence allowed me to understand the science behind HA. One of my Aha moments was to change my Instagram feed after Florence asked me to. I realised I was only seeing people with zero body fat, and it was influencing my views of my body. Both of them were crucial to my healing journey.
Life after HA is a lot easier. I travel a lot for work, and now I don't have to travel with my cooler and my own food anymore. It is a lot easier to eat out too, and live in general.